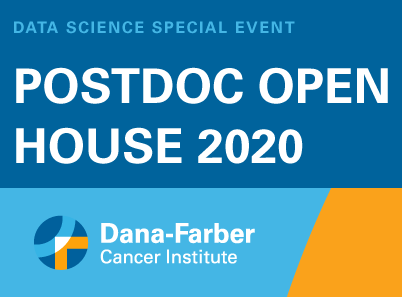 The Dana-Farber Cancer Institute Department of Data Science announces our first annual Postdoc Open House. Join us on Monday, December 7th at 1:00PM EST to explore postdoctoral opportunities in cancer research. Participating faculty include: 
Rafael Irizarry, PhD, Professor and Department Chair
X. Shirley Liu, PhD, Professor
Giovanni Parmigiani, PhD, Professor
Franziska Michor, PhD, Professor
Lorenzo Trippa, PhD, Associate Professor
Heng Li, PhD, Assistant Professor
Sahand Hormoz, PhD, Assistant Professor
Nabihah Tayob, PhD, Member of the Faculty
You will also meet current and former department postdocs, and learn about the resources available at Dana-Farber and throughout the Boston area. 
Due to limited space, we request that participants are actively seeking a postdoctoral position. Please complete this form to request event admission.
We look forward to welcoming you and introducing our department! 
Open postdoctoral positions are posted on our website.