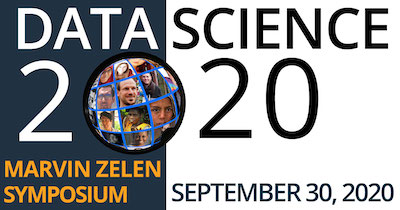 In December of 2019, we planned the next Marvin Zelen Symposium for March of 2020. At that point, the year ahead seemed to be a data spectacle waiting to happen. Think about all the events planned for 2020! Here's what we wrote.
The topic of this year's Marvin Zelen Symposium has to do with the year itself — 2020. This first year of a new decade brings with it statistical spectacles on a massive scale. From the Decennial Census and the Presidential Election in the US, to the 50th anniversary of Earth Day, to the Summer Olympics in Tokyo. These big events are bristling with data and its analyses — shaping how they are experienced, discussed, debated, and even litigated. Their time scales range from fractions of a second (the difference between gold and silver) to millions of years (the length of the geological record needed to understand our changing climate). They can be influenced by the actions of one person or the cumulative behaviors of hundreds of millions (as voters, as competitors, as spectators, as consumers). The Marvin Zelen Symposium will look at the major data spectacles of 2020, each one having synergy with the others, but also adding something new in our understanding of how data establish and reinforce systems of power on our planet.
Well, since we organized the 2020 Symposium, the entire world has changed. The original Zelen event was replaced with a "Zoomposium" on Covid-19, attracting nearly 500 attendees, and we moved the program covering everything from the Olympics to Earth Day to September, 2020 — this month.
But now that the date of the rescheduled event is upon us, think about what Covid-19 has done to many of the events mentioned in our abstract — we have seen everything from complications to cancellations. Still, we have decided to go forward with the 2020 Zelen Symposium as we had originally planned it.
We expect the difficulties of this year will inflect each of the talks on the program. Marvin Zelen embraced the complexity of data and its relationship to lived experience — the same is true for this edition of the Symposium bearing his name.
Speakers:
Ben Hansen, University of Michigan, "The Test of Heightened Election-Year Scrutiny and the Tests in your Table 1"

Brendan Nyhan, Dartmouth College, "Selective Exposure to Misinformation: Understanding the Consumption of False News and Anti-Vaccine Content Online"
Regina Nuzzo, Gallaudet University, "Brain-Hacking Stats Communication: A Quick Tour"
Amy O'Hara, Georgetown University, "The 2020 Census: Expected vs. Actual"
Andrew Revkin, Columbia University, "Taming Social Media for Constructive Climate Crosstalk"

Charles Stewart, Massachusetts Institute of Technology, "Puzzling Through Demand for Mail Voting in the 2020 Election"
Daniel Webb, United States Olympic Committee, "Forecasting the Olympic Games: Team USA's Medal Prediction Models"

Jeremy White, New York Times, "Visualizing the Performances of the World's Greatest Athletes"

Register by September 29, 2020.
Audience is capped at 500 participants. Participate on Twitter: #Zelen2020.