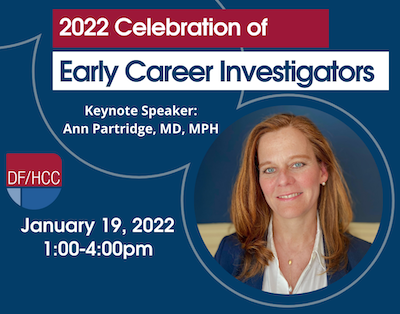 January 19 | 2022 | 1-4PM Eastern Time
This annual symposium showcases the talent of early career investigators at the Dana-Farber/Harvard Cancer Center who work in population science, including epidemiology, biostatistics, outcomes, diversity, and cancer care delivery research, and early detection.
This year, Ann Partridge, MD, MPH will be our keynote speaker. Dr. Partridge is a Professor of Medicine at Harvard Medical School, and Vice Chair of Medical Oncology at Dana-Farber Cancer Institute, where she also serves as Director of the Adult Survivorship Program and leads the Program for Young Women with Breast Cancer.
Talk title: Improving Care and Outcomes for Young Women with Breast Cancer: From Observation to Intervention
Following Dr. Partridge's talk will be a panel discussion with Tal Sella, Tamryn Gray, and Peter Miller, and then short talks and posters by our early career investigators.
Agenda and video: https://www.dfhcc.harvard.edu/ecis
This symposium is scheduled as a virtual event.